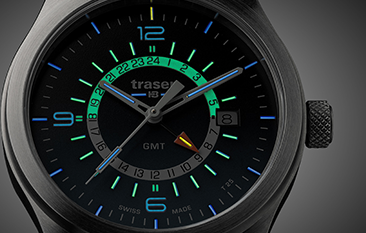 #1. Manufakturowa technologia trigalight®
Samowystarczalne źródło podświetlenia indeksów oraz wskazówek zegarka, które zapewnia nieprzerwane światło nawet do 25 lat. Bez względu na porę dnia, warunki atmosferyczne, bez względu gdzie się znajdujesz. Przez ćwierć wieku wskazania czasu w zegarku traser® będą widoczne. Nie potrzebują zasilania z baterii, akumulatorów czy nawet światła słonecznego. Są absolutnie samowystarczalne.
Kupując zegarek traser® zyskujesz w nim światło na bardzo długą część swojego życia. Trigalight® to bowiem najlepsza metoda podświetlenia stosowana w branży zegarkowej.
Pamiętaj, że każdy zegarek traser® został wyposażony w technologię trigalight®. Dodatkowo producent gwarantuje , że rurki trytu przez 10 lat będą świecić stałą intensywnością. Widoczność zachowają jednak nawet przez 25 lat.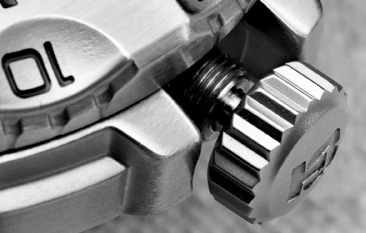 #2. Wodoszczelność od 10 nawet do 50 atm
W każdym zegarku marki traser® można pływać a nawet nurkować. Minimalna szczelność wynosi bowiem 10 atmosfer.
Wiele zegarków posiada jednak 20, a nawet 50 atmosfer wodoszczelności. Spełniają rygorystyczne normy ISO 6425 określające wymogi dla zegarków do profesjonalnego nurkowania.
Te bardzo starannie zabezpieczone czasomierze są doskonałymi kompanami podczas każdej aktywności wodnej, wliczając w to eksplorację podwodnych głębin.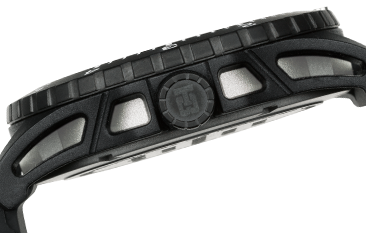 #3. Legendarna wytrzymałość
Zegarki przechodzą zarówno rygorystyczne wymogi jakościowe producenta, ale i spełniają szereg norm jakościowych ISO lub wojskowych MIL - PRF. Oprócz tego, w wybranych liniach, zastosowano niezwykle wytrzymały ale jednocześnie lekki polimer zbrojony włóknem szklanym (GFRP) oraz system Double Case – dodatkowo chroniący zegarki przed nieszczęśliwymi skutkami uderzeń, wstrząsów czy pól magnetycznych.
Materiał GFRP jest całkowicie antyalergiczny I bardzo odporny na działanie skrajnie wysokich, jak I niskich temperatur. Marka traser® jest czołowym na świecie producentem zegarków, wykorzystującym w tak szerokim stopniu technologię GFRP.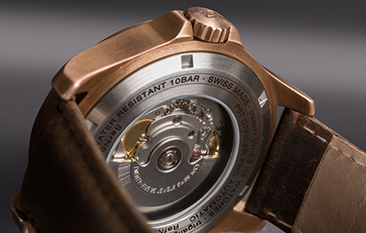 #4. 4 lata na mechanizm i 2 lata gwarancji na zegarek
Każdy zegarek kupiony w
autoryzowanym punkcie sprzedaży
w Polsce posiada 24 miesiące gwarancji oraz 48 miesięcy gwarancji na mechanizm.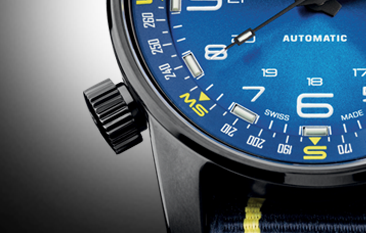 #5. Produkt szwajcarski
Każdy zegarek marki traser® posiada szwajcarski mechanizm, a manufakturowa technologia trigalight® to autorski projekt marki mb microtec również ze Szwajcarii.
Kontrola jakości oraz montaż zegarków odbywa się w Niederlangen - siedzibie marki traser®. Ponadto zegarki spełniają normy jakości dyktowane certyfikatami ISO 22810, ISO 6425 a zegarki z linii P49 Special Pro, P66 Tactical Mission oraz P96 Outdoor Pioneer - wojskowe normy jakościowe MIL - PRF.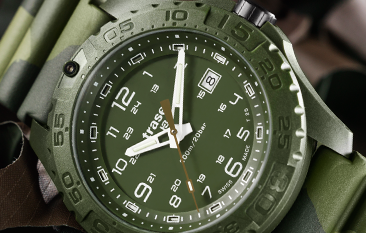 #6. Sprawdzone w ekstremalnych warunkach
Zegarki z linii P49 Special Pro, P66 Tactical Mission oraz P96 Outdoor Pioneer znajdują się na wyposażeniu wielu armii świata, w tym tak elitarnych jednostek jak Zielone Berety, Rangersi, NAVY Seal, Special OPS, Specnaz i wielu innych. Nabywając zegarki marki traser® stajesz się właścicielem zegarka przetestowanego i sprawdzonego w boju, w piaskach pustyni, jak i w syberyjskich mrozach, w wodzie i na lądzie.
Zyskujesz doskonałego towarzysza w każdej, nawet najbardziej ekstremalnej przygodzie.